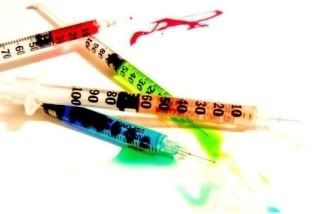 On the writing front, I have been completely unproductive this week. I have edited a chapter, maybe two. I have to do a physical fitness test this month so most of my time has been spent at work, running, or with my family.
Work has been fantastic. They girls and gals I work with are amazing and surprisingly giving with their veins. I got to do my first venipuncture this week! Also, I started an IV! I can't tell you how awesome it was to get a vein the very first time. The IV start was a little more tricky and I ended up getting blood all over the place which kind of freaked me out a bit. I thought I had missed the vein and withdrew the needle only to find I did, in fact, get the vein and when I pulled it out all the way, blood squirted out and I panicked. The guys encouraged me to try again, and I got the next one with a little less blood. It was a great experience but I think I will be waiting for a while before I do it again.
On the agenda for today: pick up a copy of Stephenie Meyer's new book and a copy of Jackson Pearce's Sisters Red.